National Public Health Week (NPHW) 2021:
The Public Health Student Association (PHSA) is hosting a week of events to celebrate National Public Health Week (NPHW). The events will take place from Monday, April 5th until Sunday, April 11th, 2021. Follow PHSA on Instagram at @umiamiphsa to learn more about the events and participate in the activities. Stay tuned for more information regarding the NPHW events.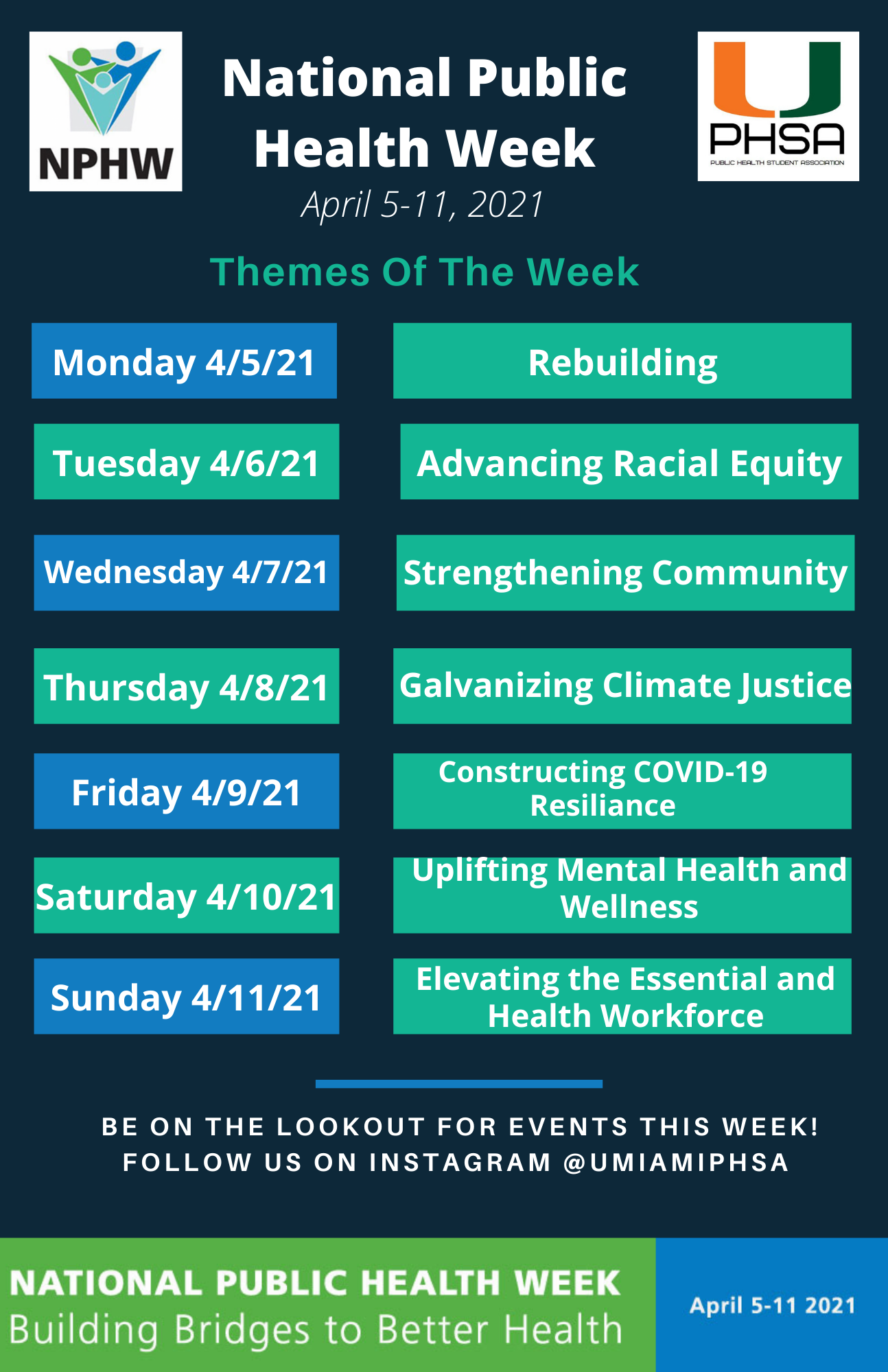 Thursday, April 8th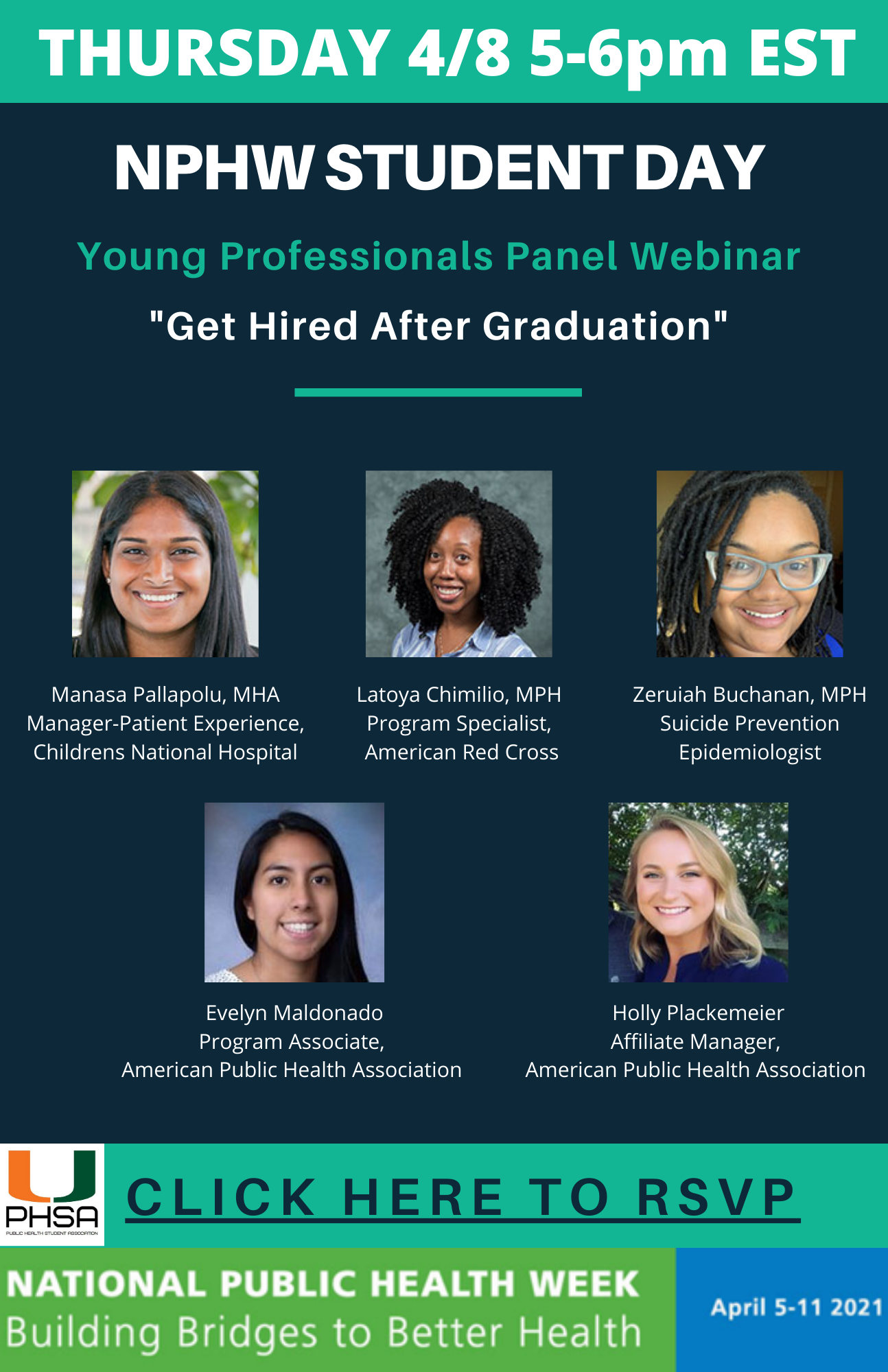 Join APHA and a panel of recent graduates on NPHW Student Day to learn about various career paths in public health and gain insight on the job search. The Young Professionals Panel will take place today from 5 – 6 p.m. ET.

For more information and to register, please visit bit.ly/3t3HKYO. The event will be livestreamed at bit.ly/3d31LcG.


Wednesday, April 7th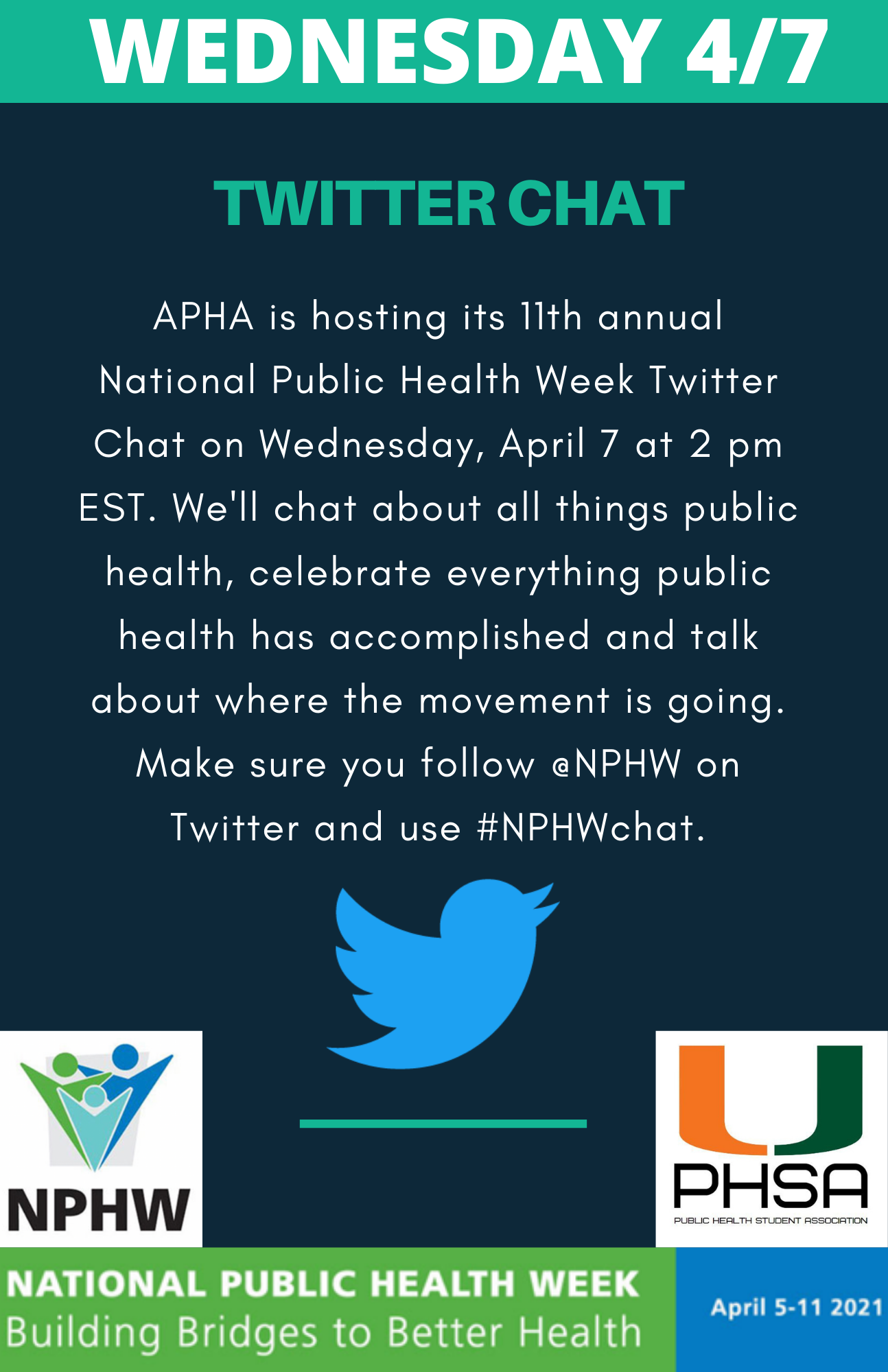 Connect to the 11th annual National Public Health Week Twitter Chat today at 2 p.m. The #NPHWChat is being hosted by the American Public Health Association (APHA). Join the conversation to discuss all things related to public health, including thanking the public health community, celebrating accomplishments, and next steps for the movement.

Follow @NPHW on Twitter and use the hashtag #NPHWchat.


Tuesday, April 7th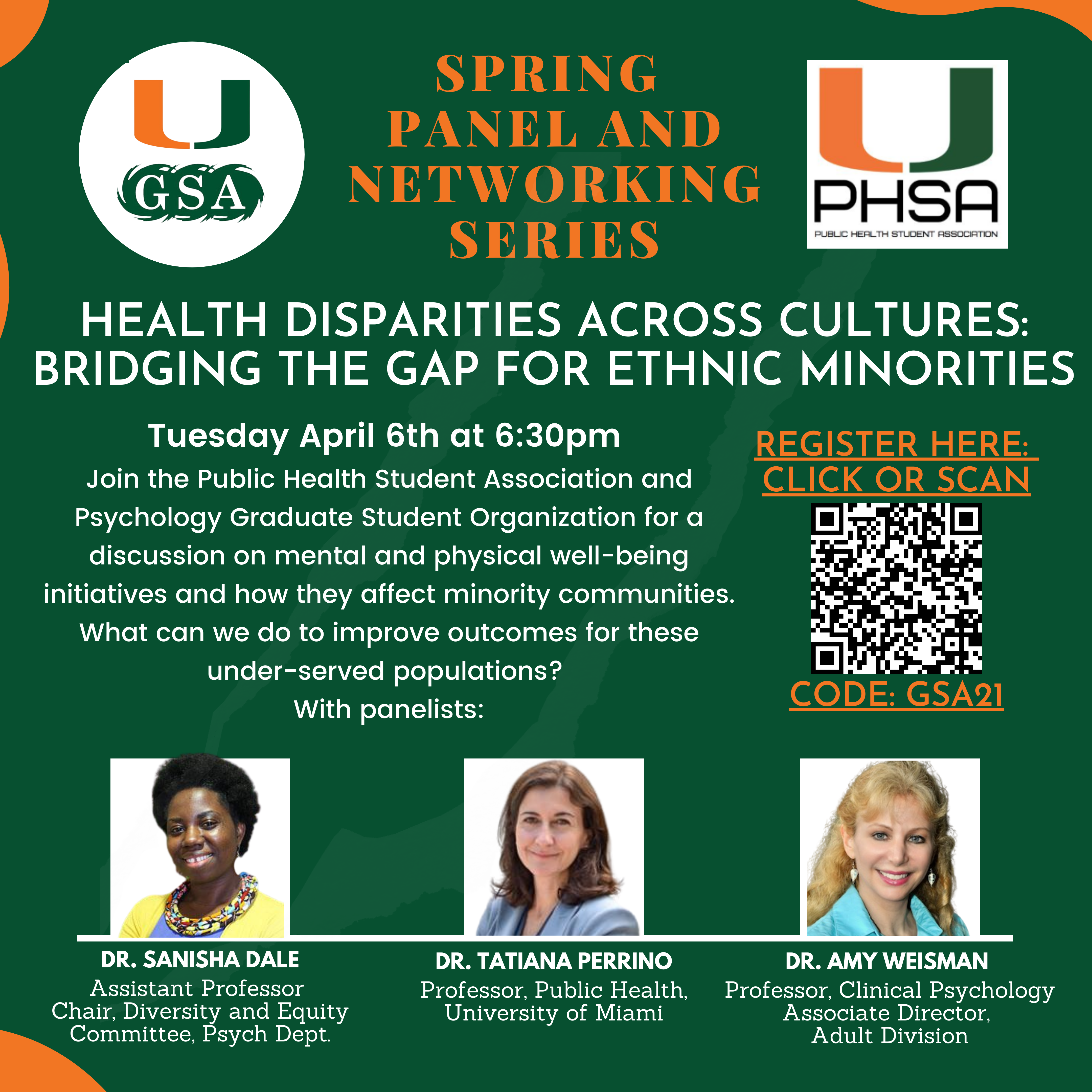 Join PHSA and the Psychology Graduate Student Organization for a multidisciplinary panel to discuss best ways to support the mental and physical health of racial and ethnic minority populations. Dr. Tatiana Perrino from the Department of Public Health Sciences will be participating in the panel discussion. The panelists will also share advice on getting hands-on experience as a graduate student to propel you into your future career. There will be breakout rooms for an opportunity to network with students across the graduate programs in the university. 
Zoom Registration Link - https://bit.ly/3cWvVOo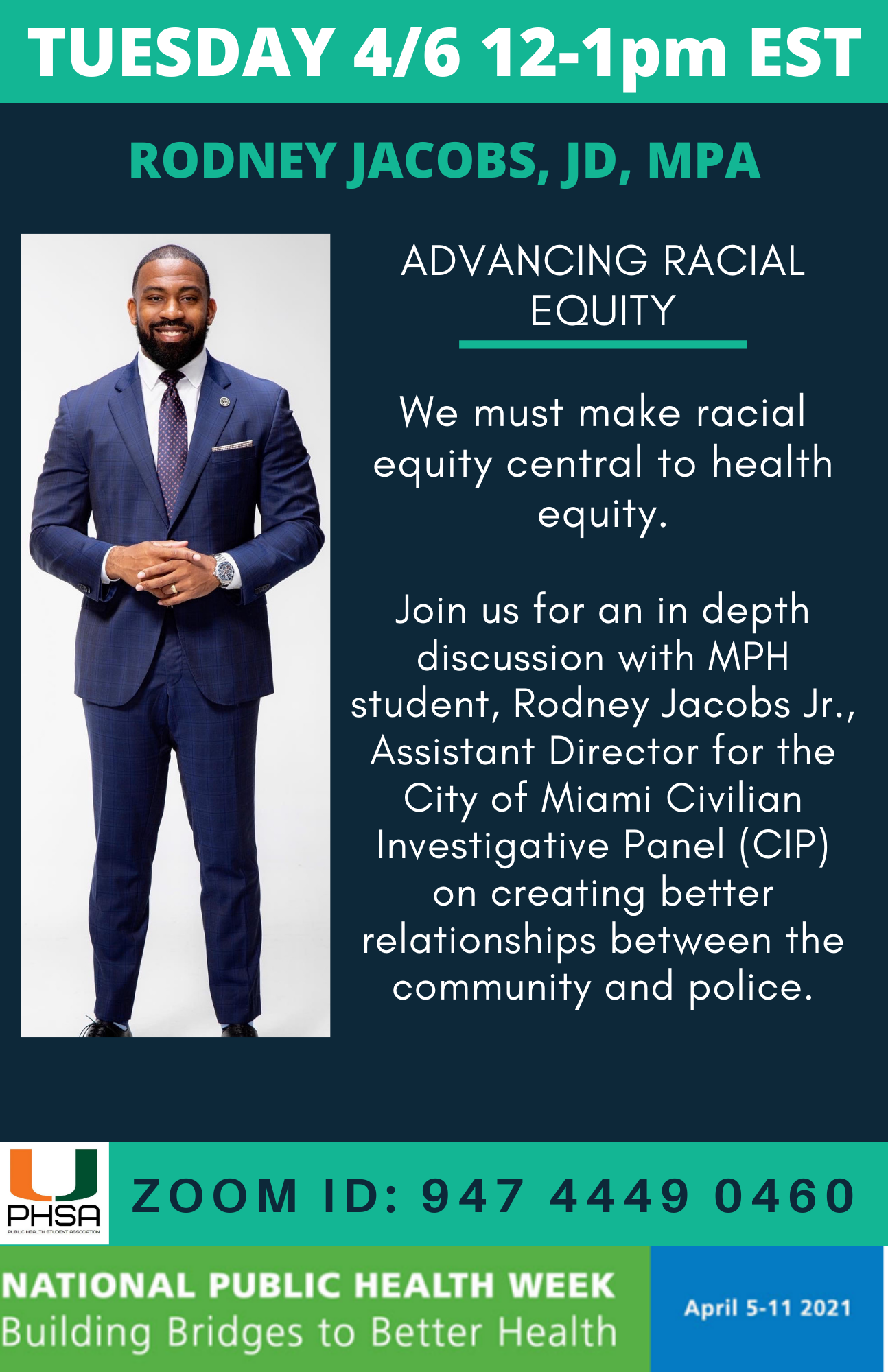 Join PHSA for a discussion with Rodney Jacobs Jr., JD, MPA, MPH '21, on the intersection of health, policing and law. Jacobs currently works as the Assistant Director for the City of Miami Civilian Investigative Panel (CIP). The discussion will focus on implementing collaborative solutions to address justice and health issues.
Zoom Link - https://bit.ly/3uqeThz


Monday, April 5th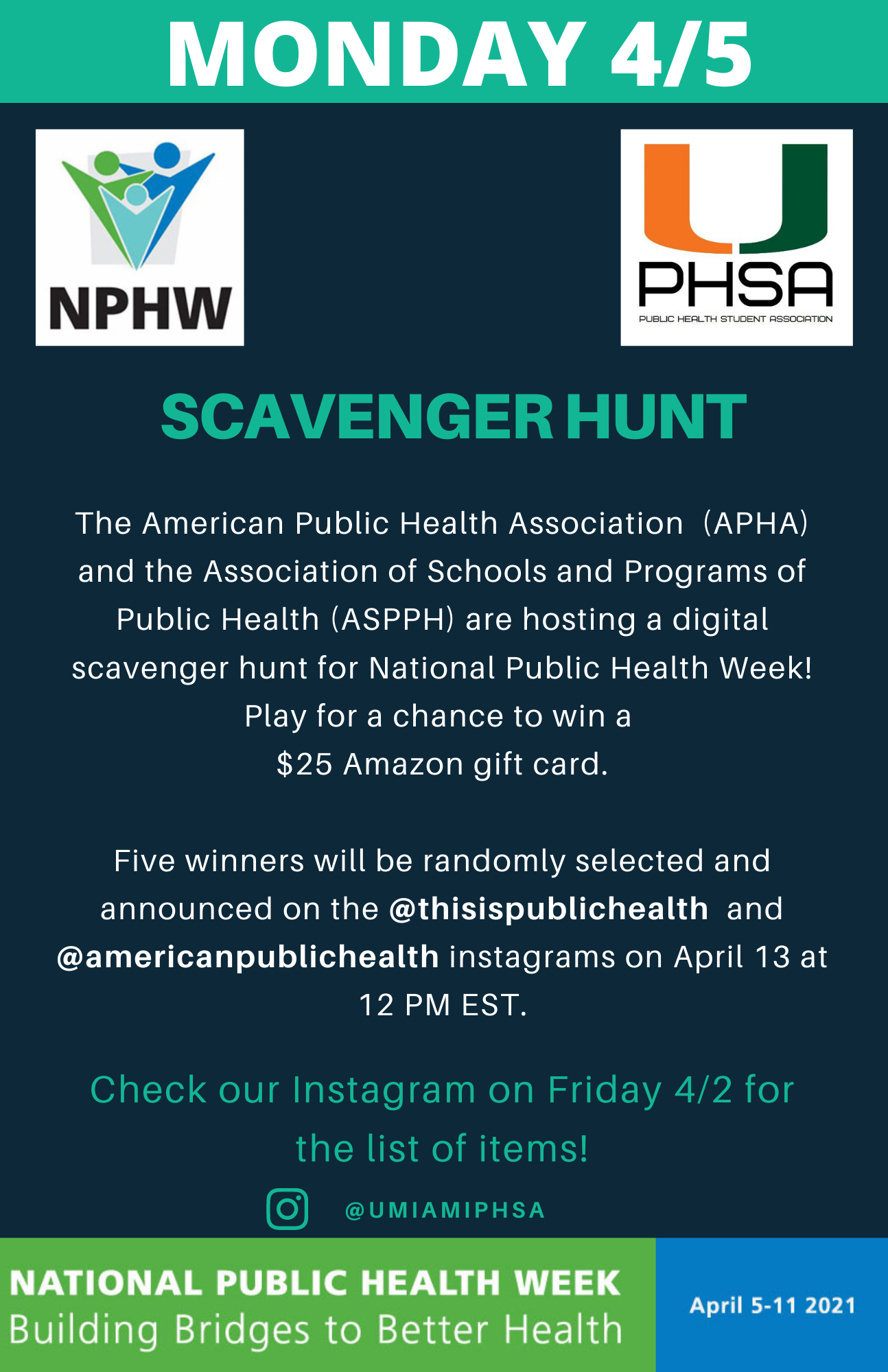 Join APHA and ASPPH for a digital scavenger hunt throughout National Public Health Week. The scavenger hunt items relate to the daily NPHW themes. The #NPHWInstahunt starts today.
Winners will receive a $25 Amazon gift card. The selected winners will be announced on the APHA and ASPPH Instagram accounts on April 13th at 12 p.m. ET. For details regarding the contest, visit bit.ly/3wrMBVP.
The National Public Health Week (NPHW) 2020:
2020 NPHW Public Awareness Project from the Public Health Student Association
April 6-12, 2020
Check out our events from previous years: