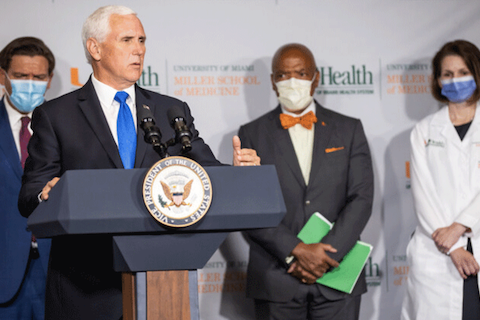 Vice President Mike Pence visited the University of Miami Miller School of Medicine along with Florida Gov. Ron DeSantis to thank the University for its leadership in launching the first Phase 3 clinical trial of a COVID-19 vaccine. Susanne Doblecki-Lewis, M.D., M.S.P.H., associate professor of clinical medicine and alumna of the Master of Science in Public Health Program in the Department of Public Health Sciences, is leading UM's participation in the clinical trial, part of the National Institutes of Health COVID-19 Prevention Trials Network. The trial will test a vaccine developed by scientists at the NIH's National Institute of Allergy and Infectious Diseases and collaborators at biotechnology company Moderna, Inc.
Due to the COVID-19 pandemic, the M.D./M.P.H. Class of 2024 orientation was held virtually this year via Zoom, where leadership and faculty convened to welcome new students. There were more than 60 attendees in the orientation, including new students, leadership, faculty, and staff.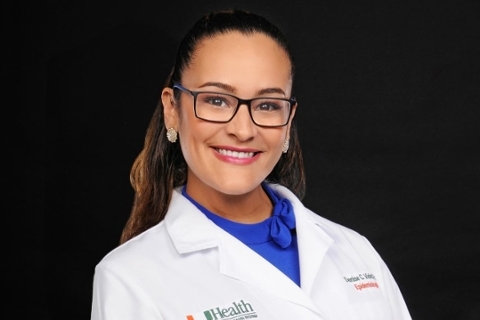 The UM School of Nursing and Health Studies is proud to announce a new four-year, $2.9 million NIH grant for Dr. Denise C. Vidot, assistant professor, to study the impact of various types of cannabis use on heart disease, the No. 1 cause of mortality in the U.S. Dr. Vidot, a secondary faculty in the Department of Public Health Sciences, obtained her Ph.D. in Epidemiology from the department's Graduate Programs in 2015.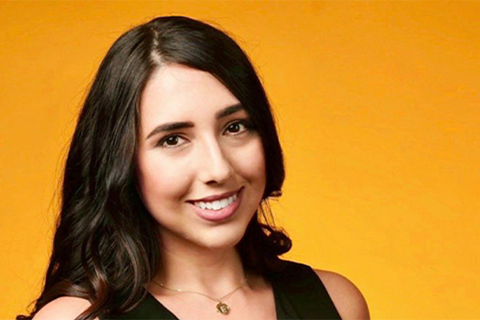 Emely Sanchez, a rising third-year UM law student who received her Master's in Public Health in the Department of Public Health Sciences in 2018, is spending her summer interning at the Centers for Disease Control and Prevention with their Public Health Law Program and their Center for Global Health's Health System and Human Resources team.